Passing Without Any Will should be avoided at all costs
Will Definition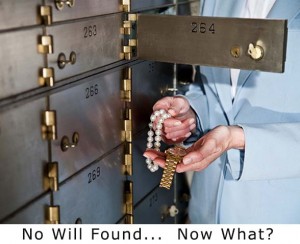 A Will is a written document which states to whom a person's belongings, money and property are to be given upon death. A Will is typically effective upon a person's death. A valid will may either be typed or handwritten (holographic).
Intestate
Where a person dies without a Will, he/she is said to be "intestate".
Community property and separate property
Under California law, money and property is categorized for death and divorce purposes as community property or separate property. The category type is vital to determine where the estate of an intestate person will go.
Passage of money & property
Where there is no Will directing to whom a deceased person's money and property is to go, the state laws dealing with intestate succession must be followed. The laws are straightforward on the surface but can be complicated when it comes down to determining is particular accounts or properties are community property or separate property or quasi community property. If there is community property, then the surviving spouse is entitled to the decedent's ½ of the community property. If there is separate property then it depends upon whether the deceased person has a surviving spouse or surviving parents or surviving brothers or sisters. For example, if there is a surviving spouse but no surviving parents, children or brothers or sisters, then all the separate property goes to the surviving spouse. If there is one child, then the separate property is divided equally between the child and the surviving spouse. If there is more than one child, then the surviving spouse gets 1/3rd and the children 2/3rds. If there is a registered domestic partner, then there are rules applying to that situation as well.
Probate Court likely
Where there is no Will, a Probate Court proceeding is often necessary to get the deceased person's money and property distributed according to law. This is because when a person has died, there must be an executor appointed by the court to legally transfer money or property. There are some exceptions for smaller estates with bank accounts under certain amounts. The Probate Court proceeding would need some relative or related person to file the initial papers with the court and then the Court will require various documentation such as an inventory of the money and property in the estate. After the inventory is filed and all creditors and taxes paid, the executor applies to the Court to get approval to distribute the estate according to the laws of intestate succession. The entire process generally takes about a year and there are mandatory attorneys fees taken out of the estate of 4% of the first $100,000 in value, 3% of the next $100,000, 2% of then next $800,000 and 1% of any amount above $1,000,000.
CALL  (949) 851-1771  to speak with Lawyer  David L. Crockett
Living Trust to avoid probate
A living trust which is properly funded is the main way that people avoid having to go through Probate Court proceedings. Simply having a Will does not avoid probate.
Conveniently located in Newport Beach near the John Wayne Airport
We are located near the Orange County California John Wayne Airport. My office is catty-corner from Fletcher-Jones Motorcars; —right behind the rear entrance of Newport Lexus on Dove Street. Here is a picture of my office building and a Google Map to get your bearings.