Please Don't become a participant in a lost Will disaster
Will Definition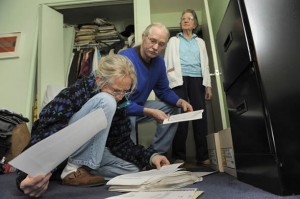 A Will is a written document which states to whom a person's belongings, money and property are to be given upon death. A Will is typically effective upon a person's death.
Original Will
A valid will may either be typed or handwritten (holographic). The original signed Will is necessary in general to be able to open a Probate Court proceeding to administer a deceased person's estate and get legal Court authority to distribute the assets.
Potential disaster
Supposing a person made a Will but the Will was lost. That can be a disaster if the Will maker has died. If the Will maker is alive, he/she can simply make another Will and that would supersede the prior lost will if it is properly prepared. If the Will maker has died then there may be no way of knowing how the Will maker wanted his/her estate distributed. That could be disastrous to people who were named as heirs in the Will. If there is no Will or provable copy then the money and property would have to be distributed according to the laws of intestate succession. If there is no provable Will, then the law presumes that the Will maker intentionally destroyed the Will.
Possible use of signed copy
If the original will is lost but there is a photocopy or scanned copy of the Will including the signature of the Will maker and witnesses, then there are Probate Court procedures that are available to prove the validity of the copy of the Will. However, if the copy doesn't have any signatures then it may not or may not be possible to prove it, depending upon the circumstances. Also, oral testimony about what a Will supposedly contained is not generally valid or proof that the Court will accept. There is simply no substitute for a written, signed and Witnessed Will.
No public record of Wills
The reason a lost or missing Will can be a disaster is that Wills are not filed or registered with any public agency so other sources have to be looked to for proof of what the Will said. If the Will was prepared by an attorney, there may be a valid copy in the attorney's files but that can be complicated if the attorney has retired or died. There is no legal requirement for attorneys to keep copies of client's Wills. This makes it easy for Wills to be intentionally or inadvertently lost or destroyed.
CALL  (949) 851-1771  to speak with Lawyer  David L. Crockett
Beware! Intentional destruction can happen!
There are situations where valid Wills are intentionally destroyed so that the Will maker's intentions won't be carried out. Unless there are copies of a Will around then the potential for destruction of the original increases and sometimes there is simply no way to prove destruction or to prove the Will's content. The best insurance against intentional destruction is for the Will maker to make various copies of the Will and give them to various relatives and trusted persons for safe-keeping.
Conveniently located in Newport Beach near the John Wayne Airport
We are located near the Orange County California John Wayne Airport. My office is catty-corner from Fletcher-Jones Motorcars; —right behind the rear entrance of Newport Lexus on Dove Street. Here is a picture of my office building and a Google Map to get your bearings.