Get your assets out of your personal name AND get your name off of public records associated with the asset.
DANGERS OF OWNING ASSETS IN YOUR OWN NAME
If you lose a lawsuit that has been filed against you personally then the winning party obtains a court judgment.  That judgment is then enforceable against any accounts or property owned in your name.
ASSET PROTECTION STAGE 1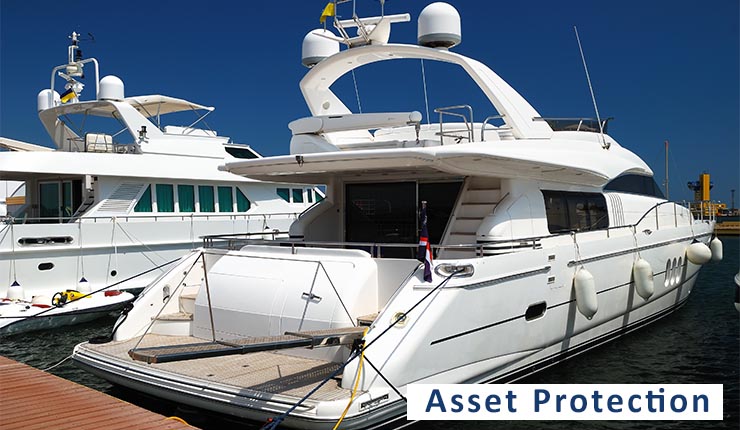 The most common asset protection plan is to form a corporation to conduct a business enterprise. If the corporation is properly maintained, the debts and liabilities of the Corporation are not passed through to the shareholders.  In other words, the corporation's owners (shareholders) are not personally responsible for the corporation's liabilities.  Only the actual money invested by the shareholders in the corporation is at risk and liable to pay the corporation's debts.
DOWNSIDE OF STAGE 1
If you own a corporation or an LLC you do get some asset protection but your corporation or LLC will be filing a statement of information with the names of the officers and directors which typically are the owners.  A creditor with a judgment may then try to bring proceedings against you personally or against your property or accounts and you would incur legal expenses to fight that.
STAGE 2 PROTECTION
In stage 2 you go to extra length to establish more protection by not directly owning shares of stock or LLC shares in your own name and/or get the ownership out of California.  You thus achieve some privacy by not having your name appear as the owner or officer or director in searchable public records.  A typical technique is to establish one or more legal entities to be the owners (holding companies) of the legal entities formed in level 1.  Thus, maybe form a Delaware LLC to be the owner of the California corporation formed for your business or professional practice. Also, depending upon the assets involved, the legal entities initially set up under level 1 may be incorporated in another State.
STATE LAWS VARY
State Laws Vary – as to how much disclosure of ownership or management is required in public records.  Even in California, the actual ownership of companies is not public record but the officers, directors and/or managers are disclosed and anybody can find out that information.  Other states don't require nearly as much information so owners may be able to remain anonymous.